What is competency and skills management?
The management of competences and qualifications will allow the company to provide specific characteristics to people or machines in order to assign adapted tasks to its personnel according to them (employees, subcontractors, temporary workers).
The usefulness of skills and competencies management in the MES :
Thanks to this management of skills and qualifications, the MES will be able to propose a more realistic scheduling. It will take these points into account in order to assign tasks to the right people. It is also possible to assign favorite jobs for an operator.
This will allow to refine the scheduling by calculating the loads and possibilities. KmProd will therefore be able to determine for you the work possibilities of the operators and help you assign tasks according to your prior configuration.
Example:
My operator A has the qualifications 1 and 2.
My operator B has the qualification 3.
My OF 1 requires qualification C to be completed.
If my operator A tries to launch the OF 1, an alert message will appear because he does not have the necessary qualifications / authorizations.
The MES will propose a schedule taking into account the qualifications and skills of the operators. It will thus allocate the OF 1 to operator B.
The management of skills and qualifications in KmProd :
Thanks to KmProd, you can manage your skills directly via the MES. To do this, you can assign mandatory skills / authorizations to your workshops and machines. These prerequisites will also be assigned to your staff members. Thus, it will also be possible for KmProd to offer you suggestions in the form of notifications, all adapted to your needs.
Case in point :
KmProd can suggest you to alert your operator if he has the necessary skills to launch a particular OF but the last date of realization of this one is too old. This "deadline" will be adjusted according to the customer's request and will also alert the manager so that he can validate or not the launch of the OF in question and thus avoid delays, errors or problems.
The screenshot below shows how it is possible to update the skills and assignments for each team member or machine by simple drag and drop.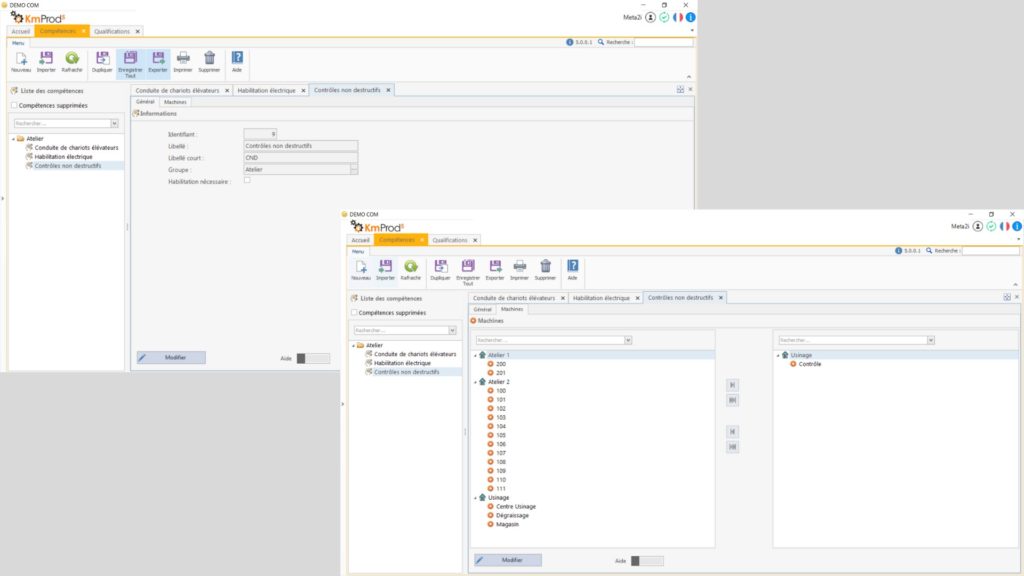 Managing skills and assignments becomes simple with KmProd. The software developed by META 2i is based on 30 years of experience in various industrial fields.
Your business is complex and the management of your teams and machines must integrate this complexity. With KmProd, this becomes fluid and logical while allowing a great flexibility on the integration of your operators (external service providers, subcontractors, temporary workers) and an easy update of your machine park.
Finally, it will reassure your human resources, your insurer, your personnel managers and will contribute to motivate your employees to pass certain authorizations and certifications.
And now, what do you want to do?