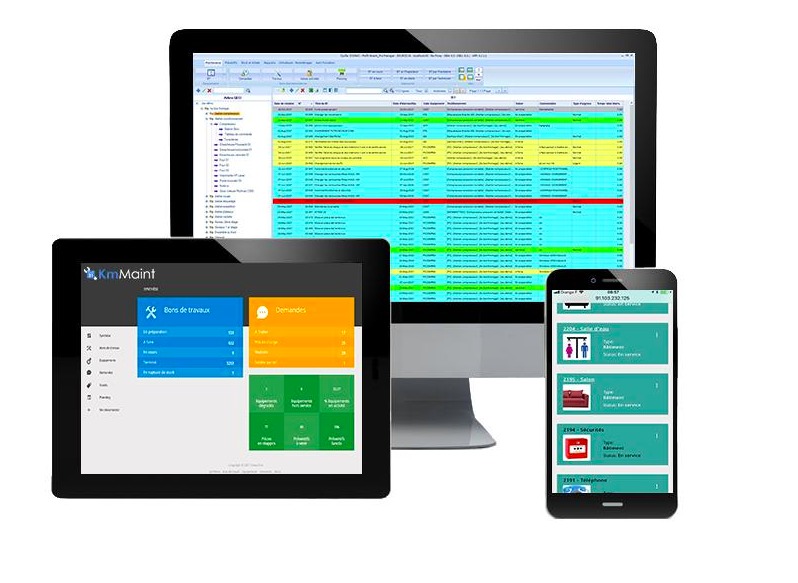 The main function of CMMS (Computerized Maintenance Management System) is to assist the maintenance departments of companies in their mission by managing, controlling and maintaining equipment in an efficient and economical way.
KmMaint organizes, plans, records and controls all types of maintenance work, optimizing them and making them more efficient.
The implementation of a new work method is not easy and requires time, but CMMS is worth it for all its benefits.
4 reasons to implement a CMMS
Traceability and simplified management of your equipment for a global vision of all your assets.
Well-managed schedules are the key to optimizing maintenance management.
Simple and efficient management of corrective and preventive maintenance, as well as inventory and purchasing.
3- Follow up its interventions
Visibility on all types of interventions: preventive, curative, regulatory, multi-incident and the management of internal and external intervention teams.
KmMaint automatically collects, aggregates and synthesizes all your maintenance data via control screens that inform you about the status of your maintenance:
Analyses, accessible via a multi-criteria selection screen, which offer technical and financial indicators.
Exports of your data directly in CSV format (for your ERP, Excel spreadsheet…) to create all the analyses you want, It's simple and easy!
Inventory and classification of equipment
KmMaint allows you to inventory all your equipment simply and quickly. At each level of your tree structure, you can refer to several pieces of information.
Follow-up of maintenance interventions / Work orders
The work order is the central document for a better follow-up of maintenance interventions.
It is both the document that serves to identify the work to be carried out and the support for the history of the maintenance activity. The KmMaint work order is a clear and precise document. The reports are quick and detailed.
KmMaint instantly provides you with a rich and easily usable history. All the work to be done is centralized in the work plan.
Management of intervention requests
Creating intervention requests with KmMaint is very simple, the input screen has been designed for non-specialists of CMMS.
The maintenance manager will be able to easily inform the requester of the follow-up of his request and choose to transform the work orders into work orders.
Automatic management of preventive measures
No more forgetting! Enter the periodic interventions that you have to perform and KmMaint will take care of the rest.
The principle is simple:
Describe all the characteristics of the work to be done (parts, labor, procedures, plans, …)
Choose a type of trigger
– Time periodical
– Threshold counter
– Periodic and fixed dates
Every day KmMaint automatically scans the schedule, anticipates the dates and integrates the work to be done into the workload plan.
Spare parts and stock management
KmMaint allows a more accurate stock management by monitoring the stock of parts, the minimum or maximum replenishment quantities, but also by anticipating future needs. Stores, quantities, referencing and search for spare parts, supplier catalog.
Automatic replenishment - Purchasing - Orders
KmMaint is a very valuable aid for optimizing the purchase of spare parts or services, orders, as well as reception (purchase of parts managed in stock, purchase of parts not managed in stock (articles), purchase of services, price management and supplier references).
It is a real management tool for the manager. Imagine: you sit on board your CMMS and the control screens inform you about the state of your maintenance.
The red color indicates a malfunction, the yellow draws your attention, and for the green everything is OK. If you want to know more, click on the line and take the necessary decisions!
Integration of maintenance ratios MTBF – MTTR – Reliability – Maintainability – Availability
Return on investment (ROI)
Reduction of maintenance costs by :
And now, what do you want to do?