Traceability is a key element of industrial production and goes beyond the simple production sphere. Indeed, it is at the same time a requirement of the customer, but also a regulatory necessity. Its bad taking into account costs companies a lot of money (for example, they have to reform an entire production because they cannot identify a defective batch).
The automotive and medical sectors have specific traceability requirements that require particular adjustments in the workshops and monitoring tools. It is however difficult for the subcontracting workshop or the small factory to develop 100% specific formulas for a single customer or sector. Solutions do exist, however, at the crossroads of the needs of each.
How to ensure your industrial traceability in your workshops?
In order to have a total traceability of its production, it is necessary to identify all the information of our products from our suppliers to our customers.
To do this, industrial companies use MES software that allows them this traceability adapted to each type of industrial sector. Indeed, MES solutions allow to identify raw materials and components according to different processes such as barcode, RFID or manual entry in some specific cases.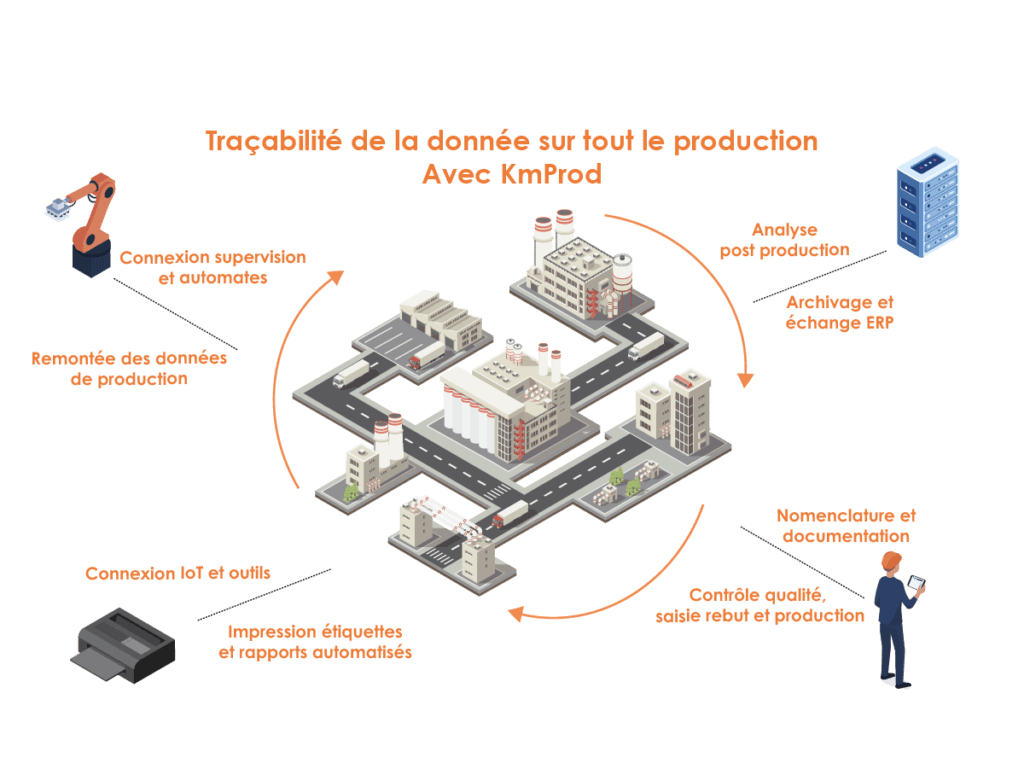 Guarantee traceability with MES:
The launch of a traceability project is generally accompanied by an MES project in order to meet continuous improvement objectives. The MES software will allow the identification of products or a set of products that will be called "batch" with an associated number.
The MES software will be able to trace the batches by collecting its data. By automatically feeding this data back into the ERP, consumption management can also be improved, without double entry. Thanks to this automatic control, the MES software allows a global traceability and in real time on the whole production flow of your company.
Thanks to the analysis of your production and based on your history, the KmProd MES can identify redundancies and recurrences, in complete autonomy. For example, if certain recurring defects come from certain batches or suppliers (or if negative customer feedback is linked to certain moments in the production process). This passive, yet effective assistance helps the decision maker to make the best decisions.
Simplicity of deployment:
The implementation of this traceability is easy because it is progressive. Indeed, it is not a question of rushing the teams on the spot by imposing a new model, but well and truly of progressively demonstrating that it is possible to make savings in time and energy (not to mention the fatigue and the drop in morale inherent in "wasted lots").

META 2i, MES expert offers its expertise service
At KmProd, we have been successfully deploying this type of solution for over 25 years, from a single workshop to a multi-site factory in several countries. Do not hesitate to make an appointment with us to explain the challenge you are facing.
And now, what do you want to do?